Imagine a life where your home

helps you
From little things, like turning the coffee machine off when you're not home, locking and unlocking the doors remotely, or turning the TV on with your voice, to big things, like giving your elderly parents the freedom of safe, independent living. That life is possible: it's called Smartlife.
Make everyday magic happen!
A true INTEGRATED smart home is all about reducing complexity and making life easier, giving you more time to do the things you enjoy.
We remove the hassles of home automation by offering a single integrated solution, all controlled from the Smartlife Connect app on your smartphone, and backed by after-sales service and a team of automation experts.
Smartlife offers custom design and premium bespoke design solutions tailored to the unique needs of each home, as well as out-of-the-box solutions for retrofitted homes and new homes and renovations.
Out-of-the-box solutions are a cost-effective way for homeowners to start their home automation journey, while still gaining all the benefits of the Smartlife Connect platform and the option to add more modules in the future.
To begin, explore one of our options below:
Out-of-the-box solutions for new or existing homes, using wireless technology to minimise disruption and off-the-shelf products that integrate into the Smartlife Connect platform.
Custom Design solutions for homeowners requiring a more tailored experience, designed to fit their unique vision for how an automated home can enhance their lifestyle.
Premium Bespoke Design solutions are for ambitious projects on a grand scale, providing unrivalled levels of integration using only the highest quality hardware and products.
Automation At Your Fingertips
No matter which level of automation you choose, everything is controlled from your smartphone with the Smartlife Connect App.
The Smartlife Connect App has been designed with a clean interface that is simple to navigate and intuitive to use. Each area of your house has a set of controls for the different smart devices in that area, such as opening the garage door, turning on the TV, or setting the temperature.
The App also has Scenes, which are collections of smart home functions all controlled by a single button press. Scenes are fully customisable to give you the ultimate flexibility and freedom.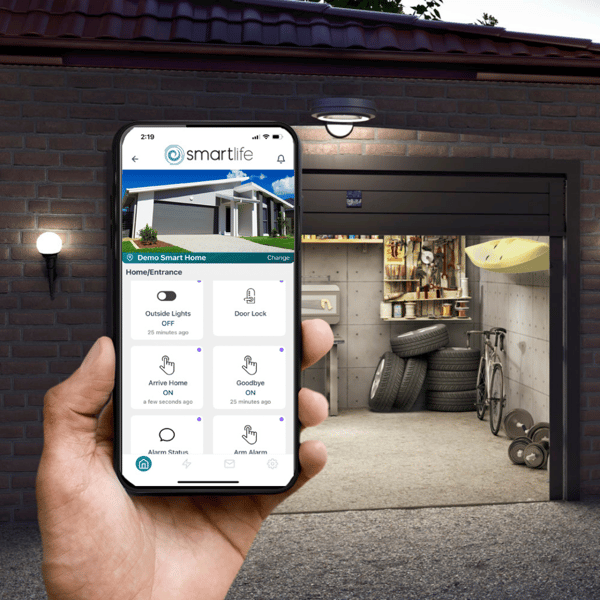 Secure Control Of Your Home
When enquiring about home automation, security is often the first feature people ask about: alarms, security cameras, digital door locks, remote gate control and remote monitoring.
Smartlife offers a complete range of automated security solutions to keep your home and family safe, all controlled through the Smartlife Connect app, with live streams of the security cameras available at any time, using high definition cameras so you can see what is happening day or night.
The app will also notify you if the alarm is set off, or someone arrives at your gate. You can then talk to the person through a smart doorbell, or if they are a contractor or family member, open the gate to let them inside designated areas.
Digital door locks, mag locks and electric door strikes make it easy to secure the home and to monitor and control who has access and when. CCTV cameras and security alarm can be monitored from the App and notifications on alarm activation or smoke detector are sent to all users who can escalate, resolve or comment.
Lights, HVAC,

Energy Control
Easily control your lighting, heat pumps or ducted heating, underfloor heating, EV charging and more from App, Alexa or wall switch. Automate all-lights-on in a burglary or fire, all-off when you leave, lived-in look and security deterrence features.
Entertainment
Smartlife Connect brings entertainment to a whole new level for homeowners. Eliminating multiple remotes and making it easy to enjoy Netflix, Sky, Apple TV, Chromecast and photos on all TVs with great sounds from integrated speakers. Cars come with integrated entertainment, now builders and developers can offer integrated entertainment.
Smartlife Connect is compatible with a wide range of Smart Home products, enabling integrated solutions for the widest variety of dwellings from tiny to large homes, apartments, RVs and boats.
Smartlife Connect is chosen by many apartment complexes new and existing. Control access to the common door, parking and common areas. Building managers can receive flood and smoke detector notifications and access can be granted without master keys. Community information and notification system integrated with all the building and individual Smart Home features. Smart EV charging and billing.
"Thanks to Smartlife for the installation of a complete home automation system in our house. What can be acheved with their system is endless. Again would like to thank Julian, Warren and Randal for their extra efforts during the process. Highly recommend this company for any Home Automation requirements."
Frequently Asked

Questions
How secure is smart home technology?
Security is important, which is why Smartlife solutions are built with security front of mind. Your data and personal information is private and secure. Smartlife solutions include options to easily control and change who has access to your house through the App, great for friends and Airbnb. When you're away, if something happens such as a smoke alarm, burglar alarm, flood alarm, freezing temperature or excessive heat you can receive a notification, open your App to view what is happening in real-time, then deal with it promptly.
Will smart home products work without having strong WiFi?
If you are considering incorporating smart home products into your new home, we would recommend that you consider installing a WiFi mesh system to best support the function of the smart home products.
Can smart home automation save money?
About 39% of the energy used by the average home goes towards heating and cooling. Smart home solutions can save customers an average of 23% on their combined heating and cooling costs.
Smart lighting solutions use at least 65% less energy than traditional incandescent bulbs yet last 25 times longer.
Smart home market research suggests that consumers with smart security systems reduce the likelihood of their homes being burgled or suffering from costly fire or water damage issues. This also reflects in their home insurance rates. On average, you can get up to a 20% reduction in your home insurance rates if you install monitored safety devices and smart security systems.
According to connected home market size and survey data, 57% of smart home device users say they save time every day. They say these devices save them an average of almost 30 minutes every day.
Let's Talk About

Your Project
Not sure which solution suits you the most?
Talk to our automation experts. Our friendly team will assist & take you through our solutions.