AgriTech
Smartlife AgriTech solutions for Farm Security and Water Management
One integrated system for farm security and smart sensors
Farmers have long leveraged technological breakthroughs to adapt agricultural practices to changing times, and this era is no exception, particularly with the emergence of Smart Agriculture.
There are many standalone systems available, each one brings more complexity to deploy, learn and share to everyone on the farm.
Smartlife AgriTech is a single integrated platform covering farm security and deterrence, asset tracking, water monitoring, and more. It connects to the widest variety of sensors and with the advanced notifications, in-app chat, and to-do lists it enables you to get on with running the farm.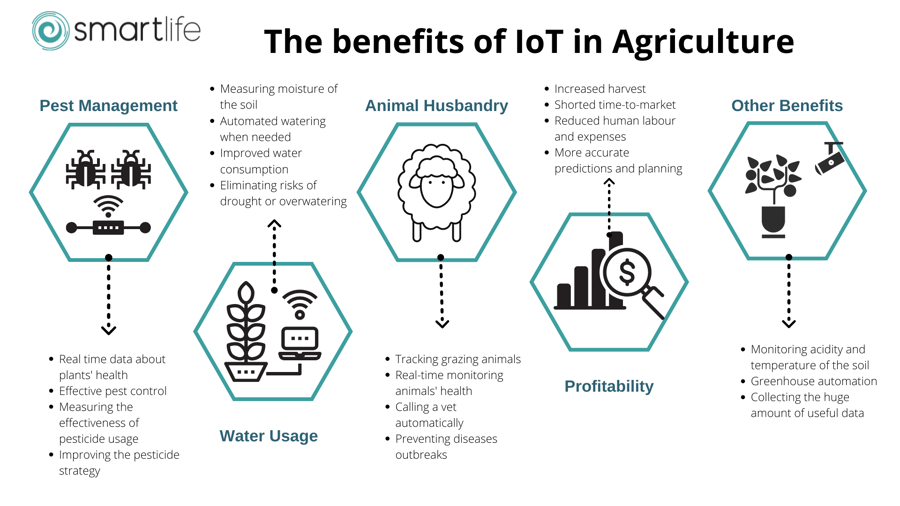 Water
Measure tank levels, dam levels, water flow, water pressure to quickly identify leaks and better manage usage. Soil moisture sensors and rain gauge information to ensure the right amount of irrigation. Water quality sensors help ensure compliance and progress.
Access Control &

Security
Security, energy management, CCTV, gate control. Multi protocol WiFi, LoRaWAN, Zigbee, Z-Wave, BLE, Ethernet, Modbus.
Soil
Smartlife wireless soil moisture sensor system analyses data in real-time to provide you with direct insights on how much water your crops need.
Horticulture
Smartlife offers solutions for greenhouse management, climate control, water treatment and fertilisation, as well as labour and crop registration.
"Unlike the previous system, the Smartlife setup does what we want it to do in our farm, all of the time, reliably. Since it was installed last year it's been as good as gold - all of our previous hassles have disappeared."
Let's Talk About

Your Project
Not sure which solution suits you the most?
Talk to our automation experts. Our friendly team will assist & take you through our solutions.